To inquire about our services, contact Dr. Bill Morgan at 610.644.8182
William D. Morgan, Psy.D. and Associates
63 Chestnut Road
Suite Three
Paoli, PA 19301
USA
610.644.8182
Specializing in the assessment and treatment of ADD/ADHD in children and adults
Counseling
Testing and Assessment
ADD Coaching
Career Counseling
Consultations
Free E-book
As a psychologist specializing in the treatment of ADD, I have found that certain information and strategies have been particularly useful to a wide number of the adults with ADD I see in my clinical and coaching practice.
This popular book is a wonderful tool in developing coping strategies to gain better control of ADD symptoms and related problems.
It covers strategies for dealing with disorganization, inattention, impulsivity, overactivity, stress and emotions, relationships, and other needed areas.
Free PDF Download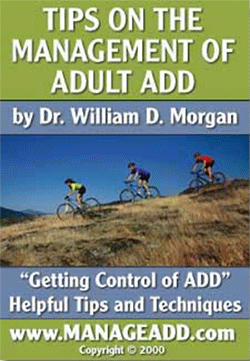 This 70-page e-book will help you:
Understand how ADD/ADHD affects you and holds you back.
Target problem areas for change.
Find strategies that you can immediately begin to use to get control of ADD/ADHD.
Become more effective and reach more of your full potential.

Locate additional resources for managing ADD/ADHD

.
Table of Contents:
Introduction

About ADD in Adults

Getting Control of Your ADD

Top Ten Strategies

Structuring

Dealing with Inattention

Dealing with Impulsivity

Dealing with Overactivity

Coping with Stress and Emotions

Relationships

Medication Tips

Miscellaneous Tips



Reviews
"I have used Dr. Morgan's Tips On The Management Of Adult ADD book in my counseling practice since it was first published. I found it to be very useful and easy for clients to understand and implement. More importantly, my clients have been very grateful for the help."
– Thomas Whiteman, PhD, author of Adult ADD

"This is a wonderfully straightforward approach to managing ADD! Included in this book are many practical and easily understood strategies that can be immediately applied to one's life. It's a great resource!"
– Virginia Cadle, PhD
"Dr. Morgan's book provided me with valuable and practical ideas on dealing with my ADD. All my life I would jump from project to project not completing any of them. By learning to focus on doing one thing at a time, I feel I have finally begun to stay with something to the point of completion! It is not an easy task to change old behaviors but I am making significant changes that I feel will be long lasting."
– Dave D., ADD patient